Toho Weekend Fishing
Every weekend is another opportunity to get outside and into the outdoors. Explore all the possibilities while visiting and experience Kissimmee, FL. Bass fishing is one of the best ways to do so. The action has been amazing on Lake Toho and it is only going to get better. Hop on board with one of our local experts on a Toho Weekend Fishing Charter.
Our local experts have spent years of their life learning their fishery. It is very important to us that they provide you with the best experience possible. An incredible amount of knowledge paired with professional equipment provides and allows you to have the time of your life. Every time you come aboard one of our fishing vessels, we hope you land that big bass you are looking for. Captain John Leech and Steve Niemoeller are your local experts this weekend.
Captain John Leech had the pleasure of fishing with David and his buddy Randy. They were traveling to Central Florida looking to get hooked up on some bass on Lake Toho. Captain John reported that it was a great day on the water with beautiful weather that turned the bass. A cold front was about to move in which also promoted the bass from biting.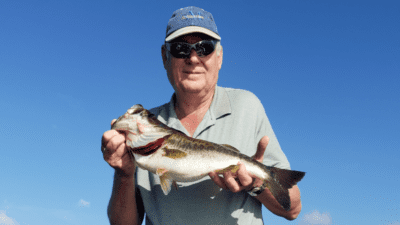 David and Randy got on them early bring bass after bass to the boat. It was a quick 6-hour fishing trip and they ran out of bait. Live bait was the preferred method to bringing over 20 bass to the boat. The biggest bass weighed between 4-5 pounds. They are looking forward to their next opportunity to get on the water in Central Florida.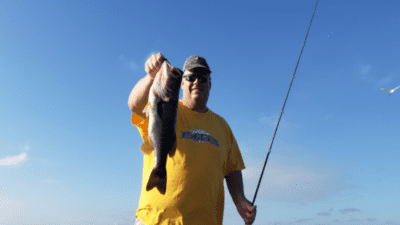 Captain John is excited for them to come back and explore what other Central Florida lakes have to offer!
Just shortly after this fishing trip, Captain Steve Niemoeller adventured out on Lake Toho. He had the pleasure of fishing with Pat and his son David. One of the best feelings about being a fishing captain is getting families and young kids on fish. Pat and David are repeat clients of Bass Online and fished with Captain Chris in North Florida on the Rodman Reservoir as well as in the saltwater out of St Augustine, FL.
It was a blast of a day according to Captain Steve. Pat and David caught largemouth bass, gar and mudfish. David really enjoyed bass fishing on Lake Toho. Getting your kids started young will have them loving bass fishing for a lifetime. They caught bass up to 4 pounds.
Pat and David are looking forward to coming back and catching more Central Florida Bass!
Lake Toho Bass Fishing is looking fantastic. Season is right around the corner and trips are booking up fast. IF you are reading this and you are traveling to Central Florida, get in the outdoors and come fishing. It is a great way to spend time with your families and enjoy the fresh air. We look forward to seeing you on the water next time!
Come Catch Yours on Lake Toho .

If you enjoyed this post with our Local Experts, you might also enjoy this fishing report from the same area.
Discover More Orlando Fishing.