Great Kissimmee Fishing Charters
Kissimmee, FL is a fantastic place to take a loved one on an outdoor adventure. If you are traveling here to visit family or get out of the colder weather, make sure to soak up the sun. The beautiful weather is the perfect excuse to go bass fishing. Hop on board for our great Kissimmee fishing charters, an activity you will not forget.
Lake Toho is one of the best bass fisheries in the state of Florida. It is a highly productive year round especially when you get on the water with a local expert. When you are going to spend a short period of time on the water, you want to get on the fish quick. Captain Brent Nelson has spent a lot of time making sure that you catch largemouth bass all trip long.
Captain Brent had the pleasure of fishing with Kate and Braden. They were visiting Central Florida on vacation and spent two days on the water. Lake Toho Bass Fishing was the best option for quality and quantity of fish.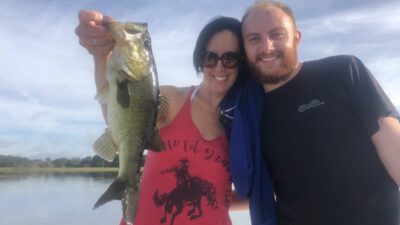 If you are thinking about coming out on a fishing charter, 6-hours on the water is the perfect time to catch a good amount of bass as well as experience what the fishery has to offer. Lake Toho is a beautiful place with a wide variety of wildlife and sights to see.
When fishing Lake Toho in search for quality largemouth bass, live bait is the way to go. On Kate and Braden's first trip on the water, they ran out of bait with an hour left. One of the additional advantages of fishing with an expert is that they will put you on fish with artificial baits as well.
Kate and Braden caught 25 largemouth bass on this fishing trip. The biggest fish weighed close to 7 pounds. Several other bass weighed in the 4-5 pound class range. The action was still hot and heavy on their next fishing adventure on Lake Toho.
Just shortly after this trip, Kate and Braden adventured out again on a 6-hour fishing trip. This time they really wanted to split up the day using live and artificial baits. They caught 30 plus largemouth bass with the biggest weighing 5 pounds.
Most of the bass were taken on wild caught live shiners but several quality bass came on artificial baits. Lake Toho is a popular artificial fishery. The most effective baits are the Zoom Super Fluke and Speed Worm. You never know what is going to bite the end of the line and the action is always fantastic.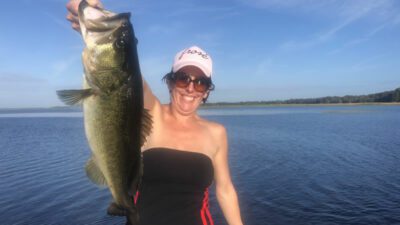 Kate and Braden had a fantastic time on the water with Captain Brent. They are looking forward to their next adventure out on the water next time they are visiting!
Don't miss out on your bass fishing trip while visiting Central Florida. The next couple of months are prime time to come bass fishing on Lake Toho. Spawning bass are moving up shallow making for a great day of fishing. If you are looking for that trophy sized bass, hop on board with one of our local experts and they will get you on the fish!
Come Catch Yours on Lake Toho .

If you enjoyed this post with our Local Experts, you might also enjoy this fishing report from the same area.
Discover More Orlando Fishing.