Split Artificial Kissimmee Fishing
If you are looking for something to do while traveling to Central Florida, don't overlook the great outdoors. Kissimmee, Florida is home to some of the best bass fishing in the state. Big largemouth bass are caught on Lake Toho every day. Come enjoy and explore on a split artificial Kissimmee fishing charter with our local experts.
When you are adventuring out on the water, a local expert is essential. One of the many reasons why is that they know where the best fishing is. Also, an additive is that you get to learn more about the area and the Florida wildlife. Captain Brent Nelson and Captain Steve Niemoeller have been exploring and discovering these waters for years.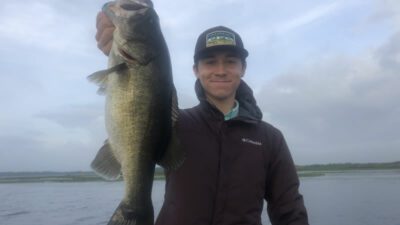 Captain Brent Nelson had the pleasure of fishing with Chris, CJ, Cooper and Hunter. They had an incredible day uncovering what Lake Toho Bass Fishing was all about. While traveling to Central Florida on vacation, they could not resist but to get out on the water for a quick 4 hour fishing trip.
One of the great ways to go fishing in Kissimmee is a split action day. Spend some time throwing artificial baits along with live bait. Live bait may be the most effective method but it is still a lot of fun catching bass on artificial baits. These guys put a smack down on the bass with over 25 fish in the boat. They put 4 fish over 4 pounds in the boat as well with the largest two weighing in at 6.57 and 7.7 pounds.
Most of the bass were taken on wild caught live shiners. CJ did however manage to catch a few bass on a worm and a real nice pickerel on a spinner bait. Everyone on this fishing trip ended up with their personal best bass along with an amazing time. Captain Brent is looking forward to getting out on the water with them again in the future.
Just shortly after this awesome fishing charter, Captain Steve adventured out on Lake Toho. Captain Steve had the pleasure of fishing with Phil who was traveling from Texas but originally from Tennessee. He went to school with Captain Chris, one of our North Florida fishing Captains. While traveling to Orlando, he had to get out on the water and search for some largemouth bass.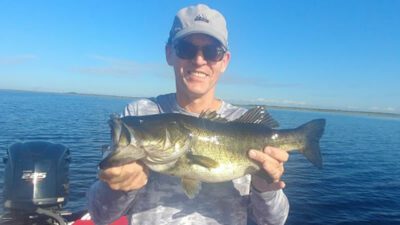 It was an early morning fishing trip. Phil caught some really nice fish on shiners. As well, he caught some decent bass on artificial baits. The most effective bait was a speed worm. Most of the bass were in the 1-3 pound range.
Phil is looking forward to coming back to Central Florida to catch more bass on his next Tennis Conference. Captain Steve will be glad and honored to show him around Lake Toho again!
That afternoon, Captain Steve Niemoeller adventured out with Craig, Jeff and Sonya for a quick trip. They were traveling from Georgia looking to cash in on some quality largemouth bass fishing. Lake Toho is a beautiful place to do that all year long. These are repeat clients and it is always nice to spend quality time and get out on the water with them.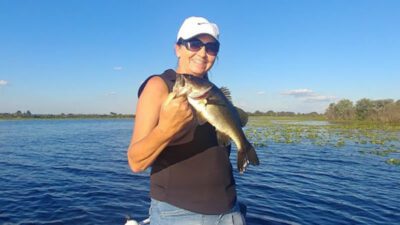 It was a slow start but as the afternoon went on, the bite picked up. They landed several nice fish but no giants. When it comes to Central Florida bass fishing, you don't always have to catch big fish to have a great time. They love just setting the hook and getting out on the water. It was a lot of fun to fish with great friends again.
Captain Steve is looking forward to getting back at it again next time they visit! For everyone else out there, for all your fresh or saltwater fishing needs, contact Bass Online and we will be glad to assist you.
Bass fishing is starting to get really good in Central Florida. As season approaches us, the bass begin to spawn making for a great day on the water. If you are looking for that trophy fish, the next couple of months are your time to catch them. Let's get you hooked up and on that fish of a lifetime! We look forward to seeing you on the water next time.
Come Catch Yours on Lake Toho .

If you enjoyed this post with our Local Experts, you might also enjoy this fishing report from the same area.
Discover More Orlando Fishing.
tagram.