Orlando FL Fishing Trips
Orlando is the ultimate vacation destination for people wanting to show their family a great time. Not only can you experience the theme parks, you can also enjoy some quality bass fishing. Orlando FL fishing trips can really bring excitement and change to your Central Florida visit. You never know what you will set the hook into.
The Butler Chain of Lakes is one of the BEST lakes in Central Florida. One of the reasons is that it is beautiful to fish with crystal clear water and beautiful scenery. Largemouth bass roam wild and in abundance. Our local experts have all the knowledge you will need in order to have a successful day on the water. Big bass can be caught all year round!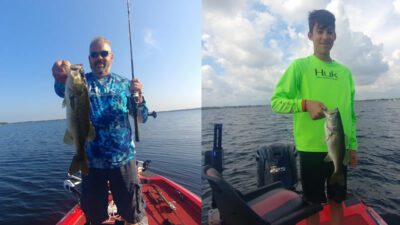 Captain Steve Niemoeller had the pleasure of fishing with one of his repeat clients on this fishing trip. Mike and his son Noah were traveling from Virginia to visit the theme parks. While they were here, they wanted to get in on some Orlando Bass Fishing. The Butler Chain was perfect match for them.
It did not take long for them to get hooked up on some nice bass. Noah caught the first fish on his first cast. Water fluctuations during rainy season provided the bass the ability to move and change locations but it wasn't hard to find the bass. They love to bass fish and really enjoyed the hunt and time on Captain Steve's boat.
Overall, they caught 20 bass weighing up to 3 pounds. The action is great on the Butler Chain and will continue to stay that way. If you love to throw artificial baits, this is a great Central Florida location to do so. Most of the bass on this trip were caught on live bait with multiple bass coming on top water.
Captain Steve is looking forward to fishing with these gentlemen again in the future! They will be back next year for more action.
Just shortly after this awesome fishing adventure, Captain Brent Nelson also went out fishing on the Butler Chain. Mauricio and Daniele were traveling from Brazil looking to get hooked up. Central Florida is a hot spot for tourism and you have to experience all that it has to offer. They went out on a 6 hour bass fishing trip in search for the Florida largemouth bass.
It was an absolute blast getting the opportunity to fish with these gentlemen, according to Captain Brent. They boated over 30 bass with the largest weighing in at 5.5 pounds. Wild caught shiners were the most effective even though artificial baits caught several quality fish. Steel Shad top water baits came in handy for the early morning bite. You can also catch them on spinner baits as well.
Captain Brent is looking forward to the next opportunity to fish with these guys again!
Don't miss out on a fishing trip of a lifetime! The bass fishing is just getting good and will continue to get better. As the weather changes, so will the forage for bass. You can have an absolute blast throwing artificial baits this time of year. We look forward to fishing with you and seeing you on the water next time.
Come Catch Yours with on the Butler Chain.

If you enjoyed this post with our Local Experts, you might also enjoy this fishing report from the same area.
Discover More Orlando Fishing.