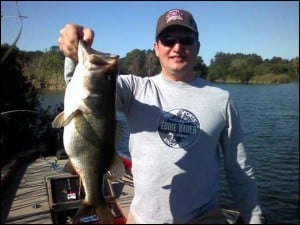 Lori,
I just wanted to take time to send you a couple pictures and thank you.
Allen was great! We talked several times leading up to today's trip. Sunday
we talked, and Allen let me know that the bite would probably be very stingy
today, but he thought we could still catch fish at Saddle Creek.
True to his word we had a hard time figuring the fish out today, but Allen
did everything he could to put me on some fish. He worked hard for his
money today. We didn't get a large number of fish in the boat, but we did
catch one huge fish, which we estimated at 9+ pounds, which is by far the
biggest fish I have ever caught by far. I let another at least this big or
bigger get away before we got it to the boat. Allen was also a lot of fun
and taught me a lot about bass fishing that I can use at home, although I
don't know if I will be able to find a fish like this at home.
I had a great time and it was well worth the money.
Thanks,
Otey
******************************************************
On December 28, Monday I had Otey from Ottawa IA visiting Family in Florida for the Holiday. I met Otey at Philips Bait & Tackle and took him to Saddle Creek. We threw lures, crankbaits and used carolina rigs. This guy had a great time and caught his biggest bass.
Thanks Otey!
We appreciate your business and look forward to fishing with you in the future.
Till next time tight lines and good fishing….
From Staff Writer Capt Allen Duke
BassOnline.com / 888-829-BASS
BASSonline.com is Florida's Largest Freshwater Guide Service & Outfitter, specializing in Florida bass fishing on lakes, canals and rivers.
To learn more about Florida bass fishing, visit Bass Fishing Blogs. Also visit or sister website Florida Bass Fishing, Lake Okeechobee Fishing, Bass Fishing Florida, Florida Peacock Bass