Today I had out a wonderful couple from Fayetteville, GA on
Lake Okeechobee
. We had a great time together, although the day started out rather cold and a little windy they were real troopers. As the day progressed and the sun warned us and the water you could really see the fishing start to get better. For the rest of the story I will let John & Dephne tell you in there own works below…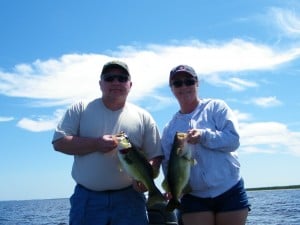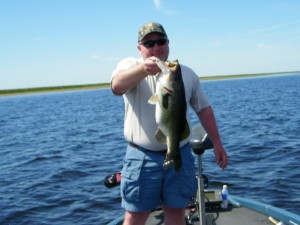 Hey Mark
Daphne and I had a great time fishing with you last week. With an early morning temperatures of 48 and on the back-end of a cold front I knew fishing would be tough. We both have a good bit of fishing experience, but not bass fishing. The morning fishing was tough, but we both caught some hard fighting Okeechobee bass. You patiently spent a lot of time teaching us bass fishing techniques and kept hunting for fish.
The afternoon was another story. The fishing picked up as we became better at feeling and hooking fish. Then Daphne and I doubled up on two 3 1/2 pound bass (pictured above). A little while later I caught a my (9)nine pound largemouth bass(above). By far the largest largemouth bass that I have ever caught.
I have attached pictures of the fish I just mentioned. The 14 foot alligator just three feet under the boat was pretty wild also!
Thanks again for a memorable trip and good luck on the pro tour.
John Carmolingo
Fayetteville, Ga
Till next time tight lines and good fishing….
From Staff Writer Capt Mark Shepard
BassOnline.com / 888-829-BASS
BassOnline.com is Florida Fishing largest Freshwater Guide Service, specializing in Florida bass fishing in the Florida lakes, canals and rivers.
To learn more about
Florida bass fishing
, visit
Bass Fishing Blog